This post may contain affiliate links, my full disclosure can be read here.
This past Monday I finally had time to check in on Facebook and what was the first thing I see?  A posting that RootsMagic 6 had been released!  That was a wonderful surprise.
Since then I've had time to try out the new version and watch RootsMagic's latest webinar.  I have to say I think RootsMagic 6 is a winner!
According to their website the main new features are:
Online Publishing – Create beautiful, dynamic websites with pedigree, family and individual views as well as supporting notes, sources, and media.  And with our free My.RootsMagic.com hosting service, your genealogy has an online home with the click of a mouse.
Live Timeline View – A live-edit panel on RootsMagic's timeline view makes this one of the most powerful editing features ever!  Make corrections to your data while viewing it in context with other family members life events.
Find Everywhere – With a single search you can now find every  record in your file containing the text you want.  Quickly find people, families, notes, sources, places, to-do items, research logs, and more.  Then edit those found records directly from the search results.
WebTags – Link people, sources, places, and more to websites using RootsMagic 6′s new WebTags.
CountyCheck Explorer – Look up a county, state, or country from a multi-national database.  It can even show you online maps of county boundaries for that date.
Plus dozens of other enhancements and features
The webtags feature is really cool and something I've been wishing for a while now!  As we research our family, we often find webpages that mention them.  Until now I've had to add these to the notes in either the person, fact or source field.  The downside to doing this, was it was easy to forget about them.  They were also not hyper linked, so you would have to copy and paste them into your browser.
Now with the webtags it is easy to find and go to these website.  When your in the edit screen, look at the top row of buttons.  The one on the far right is the "Webtags", clicking this pops up a new window.
Clicking on "Add" opens a screen where you can enter the websites name and the URL to the page you want.  Their is also a space for notes.
When you go into the person webtag window, you can also edit the webtag.  This is great for updating an URL that has changed.  You can also delete it or click on "Go" to open the link in your browser.
You can add webtags to people, places, and sources.  I'm wondering if this might be heading towards a support for the webtags Family Searches Family Tree is now using.
Another new feature I really wanted to check out was the Timeline View live editing.  I think this is a wonderful new feature!  Before if you wanted to edit a person's data, you had to go into their edit person screen.  You can still do this, but the live editing from the time line puts all events for that person, their spouse, parents and children all together.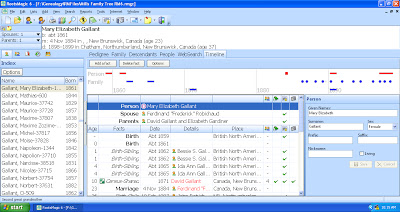 Along the top bar there are 3 buttons.  Add a Fact, Delete Fact and Options.  Clicking Add a Fact opens the familiar fact/event window and it's as easy as selecting what fact you want.  Then typing the data into the window in the right side of the screen.  You can still easily add notes and sources.
A handy feature is if your looking at the time line and you notice a family member has an error in their data.  You can easily correct it from here.  Just click on that fact and make the change.  Or if you double click on it, it will open their full edit window.  This makes it MUCH faster then before.
The Options button opens up a window were you can select what you would like the timeline view to show or not show.  You can turn on and off items like facts for spouses, siblings and children.  You can reverse place names and chose to show or not show shared events.  You can also turn off the graphic timeline at the top, this is helpful if your monitor is small!
In my next post I'll be sharing my thoughts on the new web publishing features.